Customize Your Wedding with Our Add Ons
Pick and choose the upgrades that mean the most to you and your family.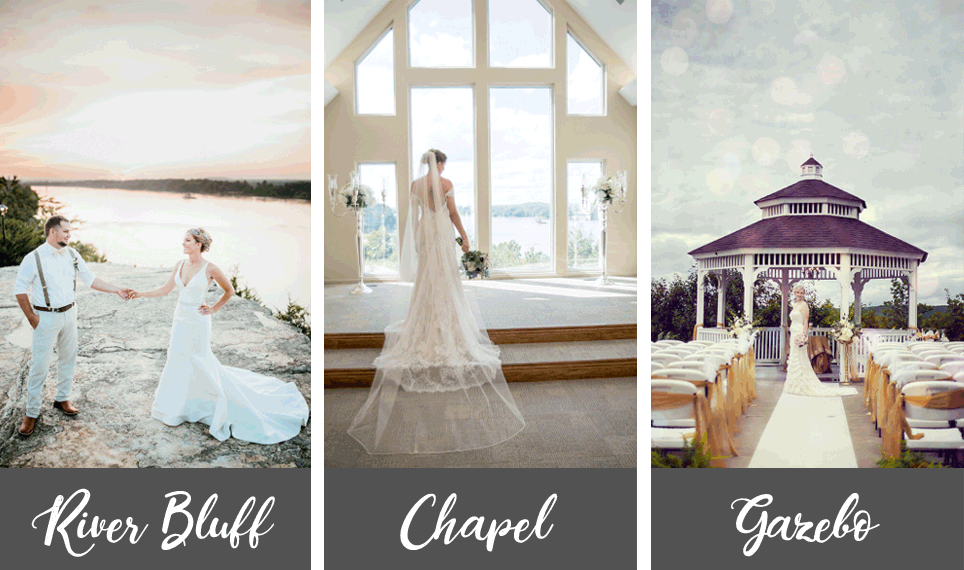 Location Options
We have three incredible options for your wedding ceremony: our beautiful chapel, our outdoor gazebo, or at the river bluff on the Missouri River. Whether you want an outdoor or indoor wedding, we have beautiful options come rain or shine. Year-round weddings are stunning at Hermann Hill. From a winter wedding with hot cider and a s'more bar, to summer weddings with custom sangria and Margaritas, we have something fun and memorable for our couples.
River Bluff – up to 350 guests overlooking the Missouri River.
Chapel – up to 250 guests with stained glass windows and views of the Missouri River.
Gazebo – up to 100 people with views of the Missouri River.
---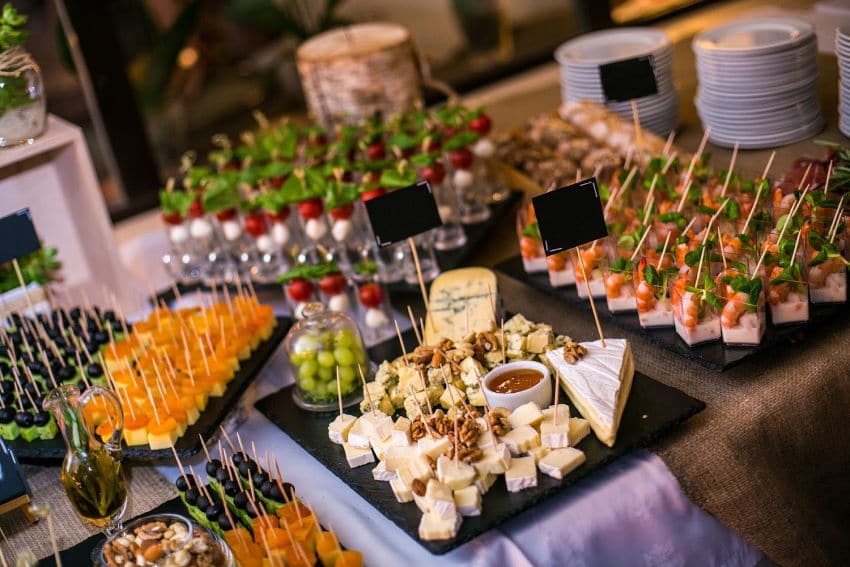 Food Upgrades
Our onsite chefs have fun and tasty menus but are always thrilled to help craft a custom menu to meet our couples needs. We can make exceptional food allergy friendly dishes and look forward to discussing your ideas with you. One of our specialties is making sure your guests are fed in a timely manner. No one wants to be the last table served and we know how to provide exceptional service so that 250 people are through the food lines withing 20 minutes. If your guests are happy, you are happy. Check out some of our food upgrades that are sure to please.
Light lunch to the bride and groom rooms
Pastries & fresh fruit to the bride and groom rooms
Passed reception hors d'oeuvres
Plated table service and champagne for the head table
Plated dinner service
Table top snacks for the bar area after the dinner service
---

**Complete Weddings + Events

Non-Alcoholic Drink Upgrades
Special touches are key to a wonderful wedding for all who attend. What can be a better end to a fun filled day than enjoying great coffee, chocolate covered spoons and other yummy treats? These self serve bars are sure to keep your guests sated and happy.
Traditional beverage bar (lemonade, iced tea and fruit flavored tea, coffee, hot tea and hot chocolate)
Chef prepared fresh whipped cream, chocolate-covered spoons, peppermint sticks & cinnamon sticks for the beverage bar
Bottled water service after the cake service
Gourmet coffee bar with flavored creams
---

Alcoholic Beverage Upgrades
We want everyone to have a great time and our bar and cocktail options, custom crafted drinks named by you, and more all help add to the fun of the evening! Find out more about our many unique options for your big day.
Pre-rehearsal wine, beer, soda & light snacks
Chilled pub glasses
Outdoor bar during cocktail hour with custom seasonal drinks
---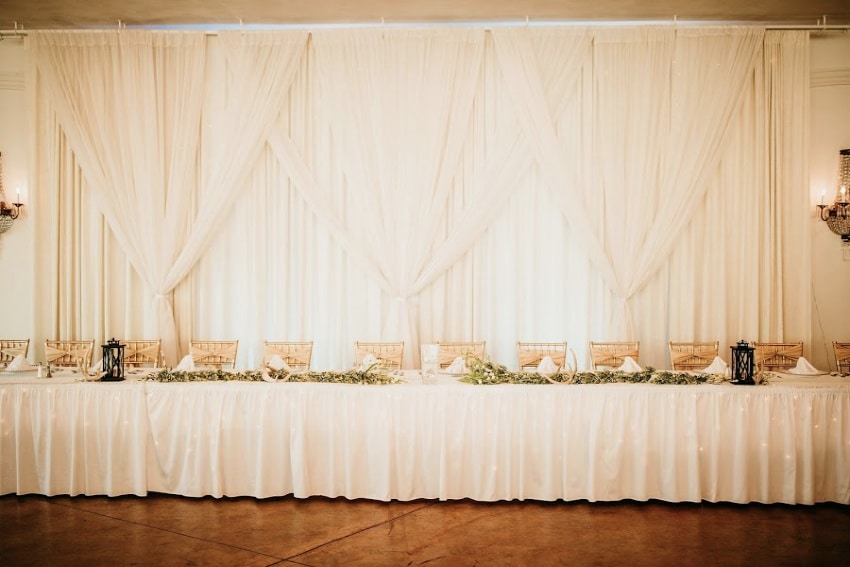 *Lemons Photography
Reception Upgrades
The beautiful Pavilion room is available to any wedding party size but is required for guests over 50. A possibility in the warmer months is to open the doors to bring the outside in. The climate controlled room is lovely and the views are spectacular. We will help you customize your reception room to be uniquely you.
Pavilion room rental (*required for over 50 guests)
---

Music Upgrades
When the bride walks down the aisle, it is THE big moment and should not be taken lightly. We can help you have the perfect moment with our talented pianist. We can help guide your music selection to make sure it is perfect.
---

**Complete Weddings + Events
Decoration Upgrades
Our bride and grooms are thrilled when they see our closets full of over 50 beautiful chair bow and table cloth decoration options. That coupled with 17 up-lighting choices makes for incredible ambiance and photos for your wedding day. The customization is fun and unique with each couple.
Use of Candelabras or Arbor
Marquis sign personalization
Colored chair sash
Colored table overlay
Customized head table with lights, tulle and chargers
Pavilion Up-lighting for the reception
---

**Lemons Photography
Time Upgrades
Your day goes by in a flash and it is important to enjoy every second. Help make your day last longer with added time to use our facility. The grooms room offers beer, snacks, a mini bar, TV and outdoor patio where groomsmen love to play cards and smoke cigars. Some have even brought in an Xbox. The brides room has everything needed for the perfect location to bond with bridesmaids, moms and grandmas, and get ready on site. The room was designed by a model and the lighting and photos in this room are spectacular. Add time to your event and enjoy your day that much longer.
Two hour early access to the venue
Early access to the Hair & Makeup  room
Ultimate late-night extension until 11:00 PM
---

Transportation Upgrades
Hermann, Missouri has beautiful rolling hills. We have a van that can be used by the couple for taking photos throughout the property, but also for guests that need help getting around the property.
Use of the Hermann Hill 15-passenger van for on-site transportation
---

**Shelby Chante Photography
Guest Favorites
There are special touches that bride and grooms have indicated were some of the most memorable items their guests loved about their wedding at Hermann Hill. One is the fun portable photo booth which offers a souvenir for your guests and a memory of your wedding. The second is when the couple is departing from the event. Guests line a beautifully lit path and send the couple off with a sparkler grand exit. What can be more fun than that as they stroll to their cottage hand-in-hand?
Open air photo booth for three hours
Sparkler grand exit
---

Service Upgrades
We offer a cake cutting service and storage of the top of the cake so you may celebrate your wedding on your one year anniversary.
Cutting, plating and serving your wedding cake
---

Bride & Groom Upgrades
Not only are we a top rated wedding venue, but we also offer #1 rated lodging on site. That coupled with the fun in Hermann and the surrounding areas, make us a top Missouri honeymoon destination! The bride and groom can add on a lovely spa package and extend their stay to have a honeymoon to remember.
---
Tours & Our Wedding Trail
Let us help you have the most unique and memorable wedding you and your guests won't soon forget. Contact us today to set up an on site tour and finalize your custom selections for your upcoming wedding. You can also join us for our upcoming wedding trails where you and your friends and family can tour our facility, enjoy sampling some of our menu and enjoy an open bar!